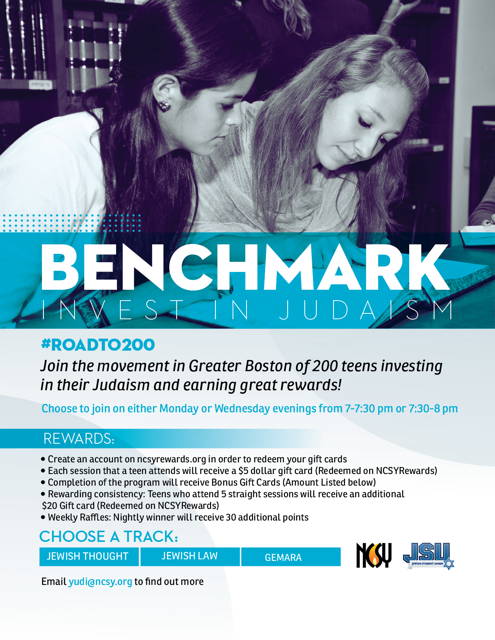 NCSY Benchmark is a new initiative to create a culture and community around opting-in on weekly Jewish learning, completing a Sefer (Jewish book), and essential mentorship opportunity. The goal is to create a movement where 200 teens in the Greater Boston area commit to learning on a weekly basis with mentors (primarily college students). Sessions will take place Sunday- Thursday evenings, 7:00 PM- 8 PM. We'll have 2 half-hour slots on both nights: 7:00 PM- 7:30 PM followed by 7:30 PM- 8:00 PM. Teens can select in the signup form which slot works best for their schedule.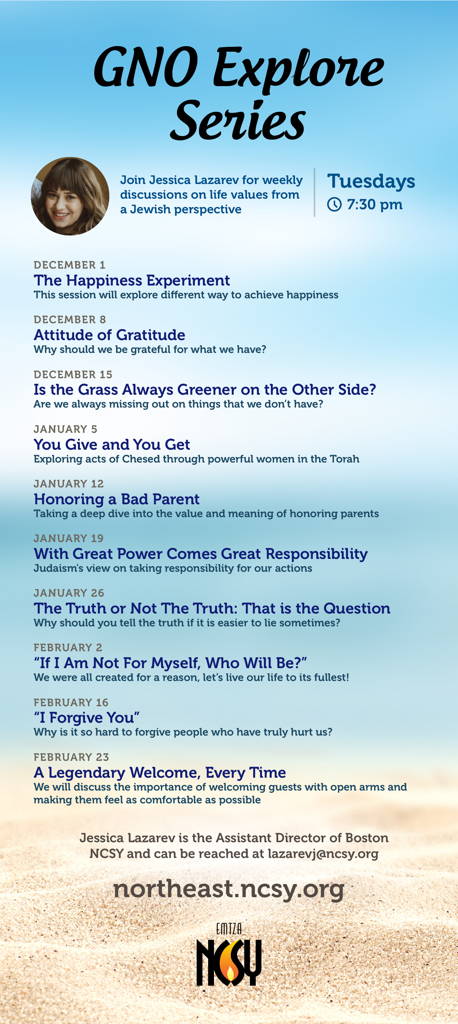 GNO Exploreis a new virtual initiative designed to provide a culture and community around opting-in on weekly Jewish discussions and having the opportunity to bond with upperclassmen. The goal is to critically think about Jewish values in a fun and engaging way and how to apply them to our daily life.. Sessions will take place virtually Tuesday evening from 7:30 PM- 8 PM. We are so excited about this new adventure and can't wait to explore with you!





THE BMP: Bar Mitzvah Program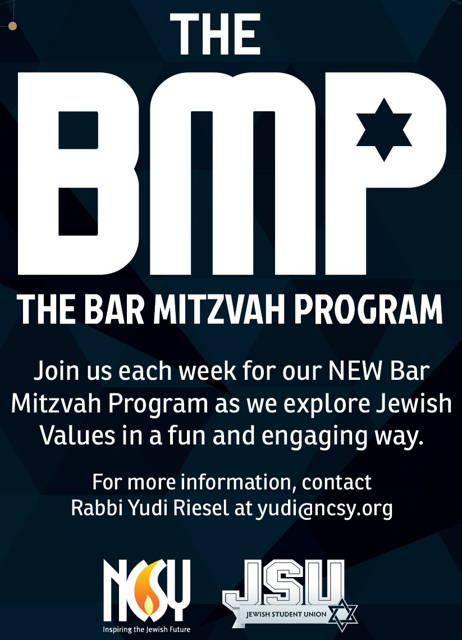 We are excited to launch our first program for Bar Mitzvah age students: BMP! Participants can join us each week for a great evening of exciting activities with our high school mentors while also enjoying snacks and lively discussions about Jewish values and Israeli culture. Each week we'll have a different values theme that we'll focus our conversations and activities. We'll also spend time connecting to the history and culture of Israel in our sessions. Our goal is simple: Bar Mitzvah boys should be excited to begin and continue their Jewish journey while strengthening their connection to Israel!
Join "Virtual Latte" a program in which you will be paired up with 3-4 other teens and a. Our goal is to have teens in Boston connect with an amazing group of advisors through Torah learning. The learning environment will be a relaxed, chilled space for teens to discuss and learn topics about life together with their advisors. Groups meet weekly for 30 minutes on Sunday nights from 9:00-9:30 PM through our Zoom platform. Each group will decide what they would like to learn about together. Click here to sign up for the upcoming session now!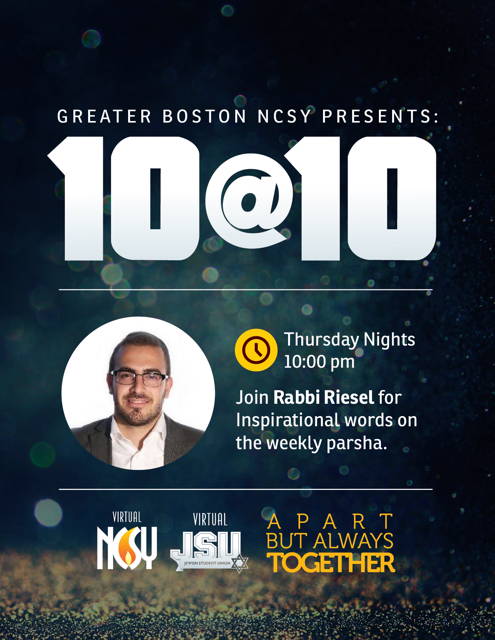 Teens are invited to join us every Thursday night for inspirational thoughts on the weekly Torah portion.